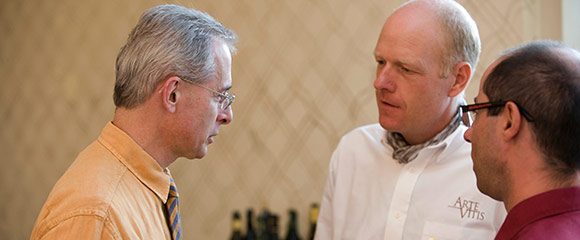 Best of 2012 David Schildknecht – Wine Advocate, Robert Parker
Parker team wakes up to Swiss wines
4 Swiss vintners quoted for the first time in the WINE ADVOCATE
Those of us who know Swiss wines knew the day would come when the Robert Parkers of the world would discover Helvetia's rich and varied collection of wines; that day has arrived.
Swiss wine researcher and author José
Vouillamoz in 2011 invited David Schildknecht, a member of Parker's wine reviewing team and
for years a regular contributor to Parker's
Wine Advocate, to visit a public tasting session
in Zurich, Memoire & Friends, organized by the
Memoire des Vins Suisses wines, some of the
country's best. The two also did a tour of a
limited number of wineries in Vaud and Valais
three months later.
Vouillamoz is co-author of the November 2012 tome, Wine Grapes, with Jancis Robinson and Julia Harding, the most complete work ever published on wine grape varieties, widely touted as a must-have reference book.
Schildknecht has just included four Swiss winemakers in his personal Best of 2012 collection, a very subjective selection of his favourite winemakers among the hundreds he visits in a year. Anyone who is familiar with the wines of canton Vaud's Pierre-Luc Leyvraz in St Saphorin, Blaise Duboux at Domaine Blaise Duboux, Epesses in Lavaux, Robert Taramarcaz at Domaine des Muses in Sierre, canton Valais and the Cantina Kopp von der Crone Visini, south of Lugano in Ticino, will be very pleased to see them included, for this is a marketing boost that small winemakers can usually only dream of.